Welcome to sde.sksu.kz
No front page content has been created yet.
Congratulations to the team of M.Auezov SKU receiving certificates of international accreditation of the German agency ASIIN!
6 bachelor programs and 2 master programs have been successfully accredited for a period of 7 years. This is their third accreditation in ASIIN. Moreover, 4 programs have once again become holders of the Eurobachelor® quality labelawarded by ECTN (European Chemistry Thematic Network) association as the best study programs in chemistry. M.Auezov SKU is the first Kazakhstanuniversity, whose programs became owners of this label (since 2009).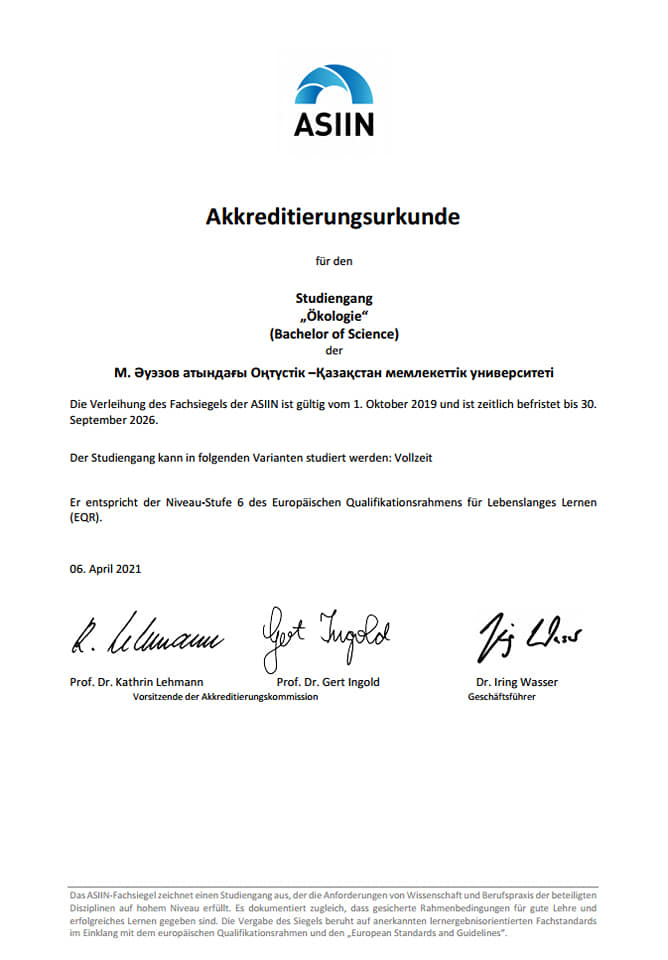 Dear and lovely women!
Please, accept sincere congratulations on the occasion of International Women's Day, March 8!

This day, like spring, arises up the most pure feelings of respect and gratitude to our mothers and wives, sisters and daughters for their daily hard work and dedication, care and unconditional love.

On this wonderful spring day, I wish good health, enormous happiness, spiritual warmth and well-being to you and your friends and families! May all the dreams and wishes come true, let the prosperity and harmony reign in your families!
Imagine, that unique possibility to graduate university distantly has appeared, it means at a distance. Thanks to the newest technologies distance learning (Internet education) became a reality. You have an opportunity at any time convenient for you to study all necessary teaching materials on an electronic portal. Distance learning is training in an individual order, possibility to combine work and study. Computer with access to the Internet for this purpose is required from you. Today Internet education is accessible a way distantly to raise qualification, possibility to graduate at a distance, without leaving the house. On quality distance learning in High School in what does not concede to other kinds of teaching. The Internet teaching also assumes performance of educational tasks according to the calendar curriculum. State standards Ministry of Education and Sciences are put in a basis of distance learning and ME and S of the Republic of Kazakhstan. Teaching by the distance form passes under the confirmed schedule, in exceptional cases individually. Having chosen distance learning, you will get access to the Internet page where all necessary educational and methodical materials, tasks examination questions at each course are placed. Teaching under the distance form comes to the end with delivery of graduation examination and diploma protection. Session on distant mode of study 2 times a year, for 20-25 calendar days.
Correspondence faculty gives the inquiry-call for session. During the intercessional period learning passes by means of SDE "Prometey", by means of electronic textbooks, lectures and cases. Consultation of the tutor-organizer is given during all training. Remote training gives real and qualitative knowledge. Having ended Correspondence faculty at M.Auezov SKSU, you receive the diploma of the state sample. Diplomas and certificates received at M.Auezov SKSU are absolutely valid in all territory of Kazakhstan.